HAWARDEN — Rob Van Egdom, 42 of Lester, owner of Heartland Appliance and Repair in Hawarden and George, is inviting the public to the grand opening of the store downtown at 717 Central Avenue on Friday from 4:00 p.m. to 7:00 p.m.
The grand opening includes a children's bouncy house, admission prizes, a $500 store credit through a raffle and a pork loin dinner to celebrate the store's transformation and expansion.
It also serves as a retirement party for previous owner Harlan Van Egdom, 77 from Hawarden, who is also Rob's uncle.
Work began in early August to expand the display space into the store's inventory area and update the aesthetic. By the time work was complete, Heartland had roughly tripled its exhibition space, had a more open concept, and a fresh coat of paint to brighten things up.
Heartland Appliance and Repair in downtown Hawarden has remodeled and expanded its showroom space for displaying appliances, with part of the new space now devoted to mattresses.

Eric Sandbulte esandbulte@nwestiowa.com
Washing machines and dryers are on display at the front of the store, while a selection of ovens, freezers, fridges and more can be seen in the center of the store.
At the rear, the former storage room has been converted into a place to display the company's latest offering, mattresses, an addition Rob is happy to bring to Hawarden.
"I'm excited to see what we can do with these mattresses. We have Serta, they're the national brand that helps attract people. You are well known in the market. But we also have Beds By Design," said Rob. "I firmly believe in Beds By Design. We have a. They just showed us a new fold-down bed that is more adjustable."
He enjoyed the training he and other employees received from these mattress manufacturers and what they have to offer their customers.
The only work left to do at the downtown store is a break room for employees. The Hawarden shop currently employs two people: Sue Van Bochove and Rob.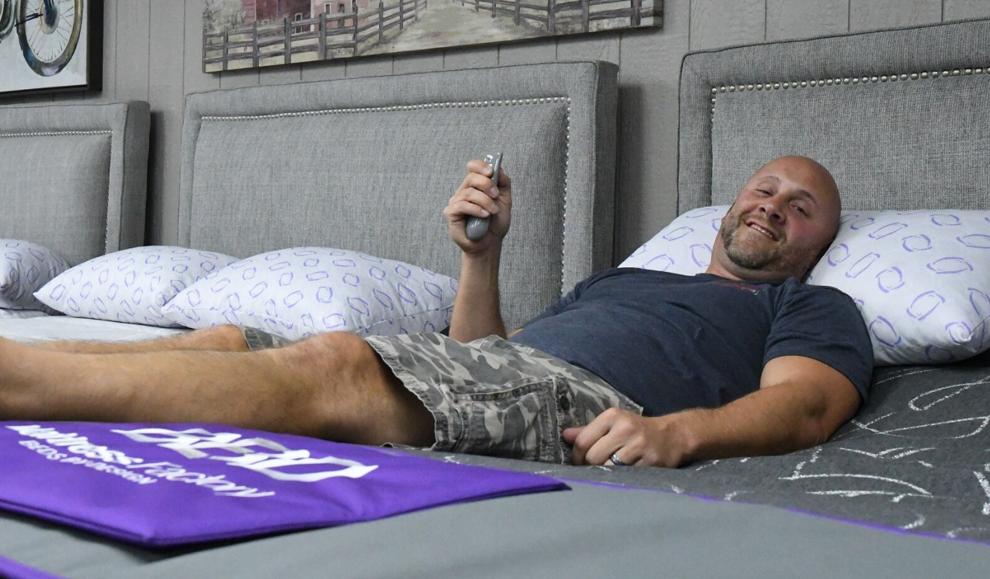 Rob Van Egdom, owner of Heartland Appliance and Repair, demonstrates the tilting ability of a Beds By Design mattress. The downtown Hawarden shop has added mattresses to its range of products for sale.

Eric Sandbulte esandbulte@nwestiowa.com
Harlan retired from his business in February 2020. He has worked there since January 1, 1973, when he first sold Magnavox televisions in the store's electronics department. At that time the company was called Swanson Hardware.
Harlan took over the business on January 1, 1982 under the name The TV Shop. When he added Whirlpool appliances in November 1988, it became The TV and Appliance Shop.
In the January 30, 2020 issue of the Hawarden Independent/Ireton Examiner, Harlan spoke about his retirement after 38 years in the business and thanked his loyal customers.
"I didn't know this was going to work and become a successful business, but I have no doubt that God did it, He never had a doubt," Harlan had said. "He made the roller coaster, and that's what owning a business is, a roller coaster — God made us make it."
Rob looks forward to the future of the Hawarden business and sees it continue to grow.
"If you don't grow today, you will shrink," he said. "So let's look at how we can continue to grow a business."
www.nwestiowa.com

https://www.nwestiowa.com/independent/heartland-appliance-and-repair-holds-grand-opening/article_8effc4f0-44f6-11ed-9130-7bb8da1a3e8e.html