AN17 Photo

Starting September 15, up to 60 concerts and events are coming to the Pride Roofing University Center in Hammond over the next 10 years.  
The inaugural headliner is popular Mexican performer Eden Munoz. The four opening acts include Mr. JZ, El Chevo, Conjunto Agua Azul, and Los Sementales de Nuevo Leon.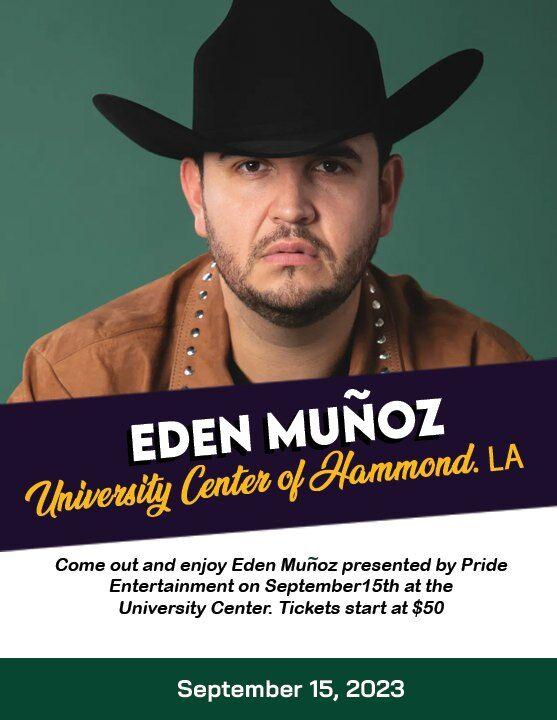 Munoz is a popular Mexican performer who will take the stage with a 27-member band. He even performed in Hammond many years ago before hitting it big. Now, Munoz is well-known in Central America and performs across the United States. 
The Networking Specialist for Pride Entertainment Scott Shaffett, who retired as the head coach of Independence Magnet High's football program in May, is excited about the concert. He compared having Munoz as the headliner to "[skipping regular season games and] heading straight to the playoffs." 
They expect the event to draw a large crowd. Paid parking will be available at the venue, as well as concessions. Southeastern PD, Hammond PD, and Pride Entertainment work together to ensure the event is safe and successful.  
Guests will be subject to the University's "Lion Clear Bag Policy." The policy allows small, non-clear wristlets or clutches measuring 4.5" x 6.5". The policy also allows clear tote or drawstring cinch bags smaller than 12" x 6" x 12". No clear backpacks are allowed. 
Tickets start at $50 and can be purchased through the SELU ticket portal at https://vivenu.com/event/eden-munoz-presented-by-pride-entertainment-885kyi. Or you can purchase tickets through Pride Roofing. 
Pride Roofing, owned by Michael Fereday and Alex Martinez, announced its partnership with Southeastern Louisiana University in May of this year. They formed Pride Entertainment shortly thereafter, and Shaffett became their Networking Specialist. 
It took them just a few short months to organize the inaugural concert. They have a growth mentality and plan to utilize the first concert as a "learning experience" so the events can become "bigger and better." The next Pride Roofing University Center concert will likely be near the holiday season. 
Shaffett summarized his excitement, declaring, "It's going to be amazing. When he (Munoz) puts on a show, it's a whole production! He's a star."
www.an17.com

https://www.an17.com/community/events/pride-roofing-university-center-hosts-first-of-up-to-60-concerts-planned-in-hammond-on/article_0a0ff07a-4c58-11ee-a04f-db278cf29881.html