With the finally warmer and sunnier days, spring is a great time of year to finish home improvement projects.
Whether it's servicing an old furnace, installing air conditioning or installing solar panels on your roof, the experts at Barron – a local leader in heating, ventilation and air conditioning (HVAC) for over 50 years – can make your plans a reality permit .
"Spring is a great time to reset and anticipate potential problems," says Barron, Director of Service Blake Trafton. "With that peace of mind, it's the perfect time to ensure your home's vital systems are operating at peak efficiency levels, or to start planning to move up to something even more efficient."
Photo courtesy of Barron Heating AC Electrical & Plumbing
Spring is also an ideal time to visit Barron experts at local home shows. In addition to attending the Skagit/Island Counties Builders Association Home & Garden Show held each March, Barron will be exhibiting at the Whatcom County Home & Garden Show held April 28-30 each year at Lynden's Northwest Washington Fairgrounds.
air conditioner
Naturally, as temperatures rise, many people think about cooling their homes, either with conventional air conditioning or through electric heat pumps, which also provide air conditioning.
Merrill Bevan, Barron's chief operating officer, says that every spring the company supports two types of people: those who plan now for the hot summer days and those who react to them as soon as they arrive. "While we do our best to support everyone, planners often walk into the summer with a lot less stress!"
Lead times to install air conditioning typically stretch significantly by June, meaning those waiting to call for service may struggle to cool down while it's still hot. Over the past year, Bevan says, increased demand due to hotter summers and supply chain issues combined to result in months of wait times, something that was unheard of just a few years ago
While not expected this year, it's best to schedule work as early as possible to ensure you're comfortable as the mercury rises. Rob Takemura, Barron's Director of Operations, says current call-to-install lead times are measured in weeks, "so it's a great time! To plan."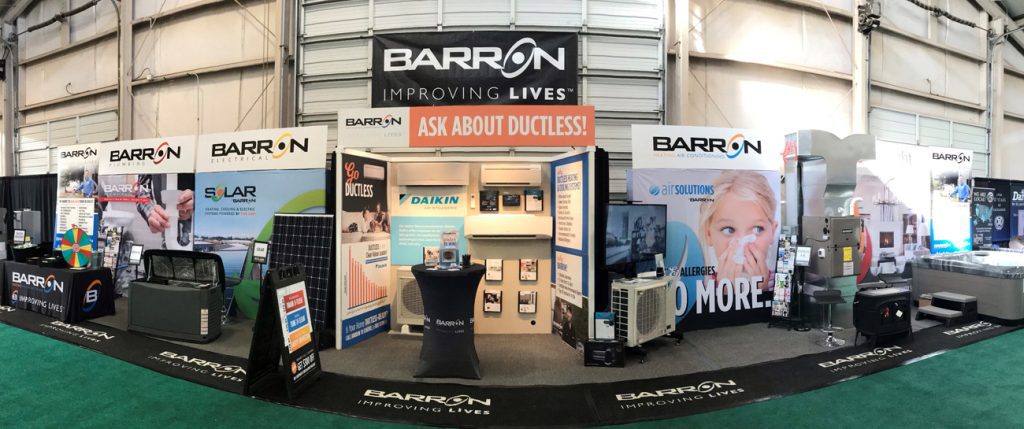 Photo courtesy of Barron Heating AC Electrical & Plumbing
And the heat can be just as challenging for Barron employees as it is for homeowners.
"Up in those crawl spaces or attics, it could be 130 degrees," says Takemura. "We try to talk to the customer and start as early as possible in the morning."
The Barron's Home Show Special, valid through April 30, is $1,000 off installing an air conditioner or heat pump unit. A full system upgrade pre-season AC special is also offered: up to $4,000 in savings with qualifying rebates, incentives and a Silver Shield membership.
air ducts
After months of buttoning up your home to stay warm and dry, dust and allergen levels can be high. That is why cleaning and sealing sewers is also a popular spring activity.
Barron engineers perform traditional air duct cleaning and also offer Aeroseal® services to seal ducts and achieve energy savings that may escape through holes and loose fittings. Takemura had his own house sealed with Aeroseal and noticed a significant increase in energy efficiency.
Photo courtesy of Barron Heating AC Electrical & Plumbing
"It required a screen door size opening – that's how much air I was losing in my system – and it ended up with a 2″ x 2″ air leak," he says.
Some homeowners may also want to use ductless HVAC systems to cool or heat specific areas of their home as efficiently as possible.
Barron Home Show Specials include $500 off drain cleaning and Aeroseal® when ordered together, $300 off Aeroseal separately, or $100 off a drain cleaning.
solar and more
Sunny days get many people thinking about solar energy and with the new tax credits available now is a good time to consider them for your home.
While solar can represent a significant upfront investment, Barron also offers low-interest, smart energy financing that can lower the monthly investment to something comparable to most customers' current utility bills. Coupled with energy-efficient heat pumps and heat pump water heaters, Barron has even found that some customers are having lower monthly payments on their solar investment than their previous utility bills. In other words, it paid off!. Those rates can even be slightly lower than current bank borrowing rates, according to Takemura.
Even if you're unsure about taking the plunge, it's easy to ask a Barron technician to do a thorough assessment of whether your home is solar-ready.
While some homeowners choose to have battery backup and generators as part of their solar systems, others choose to use traditional power generators and battery backup systems. That means that if a storm knocks out the power, their generators charge batteries that keep the lights on.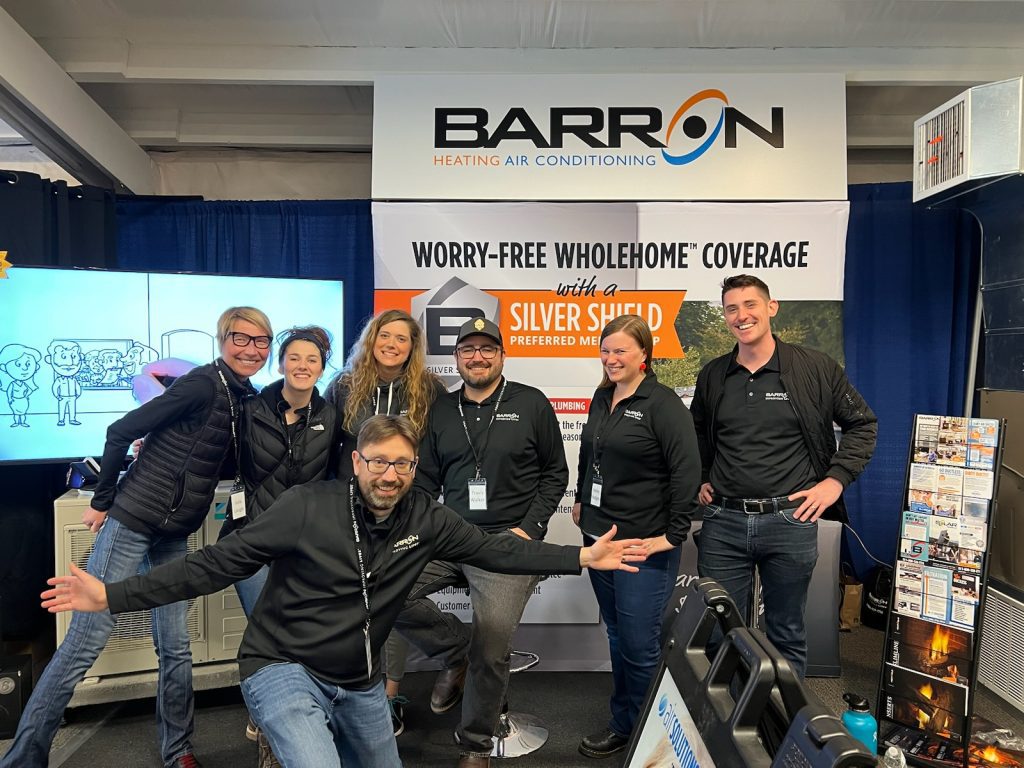 Barron experts at the Skagit Home Show. Photo courtesy of Barron Heating AC Electrical & Plumbing
Barron Solar Home Show specials include savings of up to $4,500 on a combined solar system (array, battery backup and generator) and savings of $1,000 to $2,500 on any or any combination of these systems – plus a 30% tax credit!
maintenance
Of course, you don't have to go wild with new installations to save money or improve the comfort of your home.
Trafton points out that while many people wait until the fall for kiln maintenance, now can also be a good time to do it. After months of heavy winter workloads, spring checks can ensure your furnace motors, fans and other parts are in the best possible shape. It's like taking your car for an oil change after a 3,000 mile round trip for an oil change, and Barron, we check your air filters too!
Both preventative and performance maintenance, adds Bevan, are especially important as your gear reaches middle age. Even if you don't know the age of your oven, Barron technicians can help you find out.
Another common spring maintenance involves plumbing. In particular, check the outside hose bibs before you start gardening or watering your lawn.
"It's amazing how often there have been plumbing problems that have arisen in the winter but only show up once the garden and lawn go outside," says Bevan. "It's a good habit to get a plumbing inspection every year before you start pulling out your garden hoses."
Silver Shield Memberships
This is also a great time of year to consider something that can offer both security and cost savings: Silver Shield memberships.
The memberships, which start at $20 per month, offer discounts on equipment replacements and maintenance, as well as priority service. The latter includes no overtime pay and a spot at the top of the emergency line whenever you need it. Barron will also proactively notify you of maintenance needs during the spring and fall off-seasons when heating and cooling equipment is less used.
A $100 kick-off maintenance special will be offered for those who stop by at the Whatcom Home Show (This is an in-booth special for showgoers only – make sure to go to the show!). This provides maintenance for the gear of your choice – for just $100 – when you purchase a monthly Silver Shield membership.
Whatever your needs this season, it's an ideal time to partner with Barron Heating AC Electrical & Plumbing to meet your home comfort needs.
"Now is definitely the time to get in line," says Takemura. "Even if you bring someone to your home now to do this assessment, you can still make an appointment for later in May."
Sponsored

www.whatcomtalk.com

https://www.whatcomtalk.com/2023/03/31/spring-forward-with-barron-heating-ac-electrical-plumbing-springtime-offers/